A Path to Personal Empowerment After Divorce
Hello, resilient souls! Today, I want to visit an often-overlooked topic of great significance—the journey toward happiness and empowerment after divorce. We spend a lot of time talking about the downside of divorce. Let's take a peek at the upside. 
In our society, lifelong marriages are often glorified as the ultimate measure of relationship success. However, it's time we expand our perspective and recognize that true fulfillment encompasses much more than simply enduring years together. As a Certified Divorce Coach and Certified Divorce Financial Analyst who mediates divorce agreements daily, I'm here to shed light on a new narrative.
Marriage is a tapestry woven with intricate threads, far surpassing the superficial portrayal often perpetuated in the media.
While I must admit weddings have a special allure (if I weren't focused on divorce coaching, I might have pursued a career as a wedding and event planner), it's essential to acknowledge that successful relationships are built upon a foundation far more profound than mere longevity. 
When we solely emphasize the duration of a partnership, we inadvertently disregard the multifaceted factors that contribute to its true success. We need to acknowledge the importance of personal growth, the freedom to evolve alongside our partners, the impact of financial stress, the complexities of parenting, and the challenges of feeling isolated from our support networks.  
These experiences are frequently overlooked within the confines of the traditional vow, "till death do us part."
Sometimes, the most empowering decision we can make is to end a relationship or marriage amicably. This truth applies to individuals of all genders. However, due to cultural norms and systemic barriers, women often face unique challenges when contemplating divorce.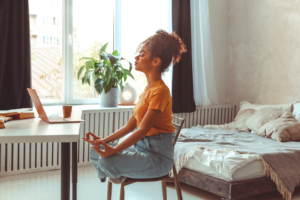 It's common for those who have experienced divorce to express a sentiment of having prolonged their unhappy marriages. The pressure to conform, imposed by societal expectations, legal complexities, financial obligations, and religious beliefs, affects everyone involved.  
Unfortunately, the media often perpetuates the narrative of divorced women as desperate, diminished failures. However, research consistently reveals that women frequently report higher happiness post-divorce. 
In fact, a 2013 Kingston University survey highlighted that most women experienced a newfound sense of happiness after divorce.1 Similarly, According to an online survey of 2,000 U.S. adults by Avvo, a legal research company, 75 percent of divorced women report having no regrets over the decision to part, whereas just 61 percent of divorced men say the same.
Now, let's explore five key reasons why women, in particular, often discover happiness and empowerment after divorce: 
1. Embarking on a Journey of Self-Discovery
Rather than rushing into new romantic relationships, women often embrace the post-divorce period as an opportunity for profound self-discovery. After freeing themselves from an unhappy marriage, they have the time and space to reflect on their needs, desires, and dreams. It's a chance to rediscover who they are and realign their priorities. This period of self-reflection allows women to learn valuable lessons from their past relationships and develop a deeper understanding of their personal growth. 
2. Building a Supportive Network
During a long marriage, it's common for individuals to lose touch with their authentic selves. Divorce provides an opportunity to reconnect with a supportive social circle. Close friends who have also experienced divorce can offer invaluable insight and understanding, recognizing aspects of ourselves that we may have overlooked. Engaging with a network of like-minded individuals can help rebuild confidence, provide emotional support, and foster a sense of belonging. 
3. Embracing Personal Growth and Reinvention
Even in the most loving and supportive relationships, people can fall into patterns that hinder personal growth. Divorce opens the door to a new chapter of life, allowing women to reassess their priorities and embrace personal development and reinvention. It's an opportunity to explore new passions, interests, and aspirations. While the transition may come with moments of uncertainty and anxiety, staying connected to the reasons behind the divorce and trusting in the process is essential. Through this journey of self-discovery, women can tap into their true potential and create a life that aligns with their authentic selves. 
4. Nurturing Physical Well-being
Taking care of one's physical well-being is vital to post-divorce empowerment. Engaging in regular exercise, trying new activities, and prioritizing self-care can profoundly impact mental and emotional well-being. Whether joining a fitness class, practicing yoga, exploring nature, or indulging in wellness retreats, focusing on physical well-being allows women to reconnect with their bodies, release stress, and boost self-confidence. 
5. Seeking Guidance and Support
Recognizing the importance of seeking guidance and support is vital in the journey toward happiness after divorce. Women often find solace in consulting with divorce coaches, certified financial analysts, therapists, or support groups. These resources provide a safe space to navigate divorce's emotional, economic, and legal aspects. Working with professionals specializing in divorce can offer invaluable insights, help shift perspectives, and provide the necessary tools to navigate the challenges and embrace the opportunities. 
Consider shifting the lens, what if divorce is not a defeat but an empowering catalyst for personal growth, self-discovery, and happiness? Release the societal expectations and embrace the transformative journey that lies before you. You have the strength, resilience, and capacity to create a life of fulfillment and joy. Trust in yourself and the process. The best is yet to come! 
With love and empowerment, Brenda 
https://www.salon.com/2016/07/01/women_divorce_better_than_men_theyre_happier_more_confident_and_less_likely_to_self_destruct_partner/